Hamilton's Pipeline Trail "liberated a past treasure"
Hamilton's Pipeline Trail was created by a state of the art water pipeline in the 19th century, but found new life thanks to a passionate group of Crown Point Neighbourhood.
Jul 14, 2018 by Jon Wells  The Hamilton Spectator
One of the bike stands along the trail. This one near Kenilworth Avenue. - Barry Gray , The Hamilton Spectator
Nick and Dixie went for a walk. They left their apartment in the east end near the Dark Needle tattoo shop, Our Lady of Vietnam church, and across from fire station 9 on Kenilworth Avenue.
They hit traffic and harsh mid-afternoon heat and dust and sun-bleached asphalt.
And then, after a few strides, they were free: strolling a grass-lined path past flowers and a mural of a cascading waterfall.
Dixie, a pug with a little Boston terrier in him, ambled along a sliver of shade.
"I don't have a backyard, right?" Nick Carson said. "So this is perfect for me and my dog."
Their backyard is also known as Hamilton's Pipeline Trail.
It has always been here, or going on 160 years, anyway, but for a long time it was in bad shape. That all started changing a few years ago.
Today it's a much beloved path — an artery, for residents in the bruised and big-hearted core of the city.
The Pipeline Trail found new life because of the efforts of a group in the Crown Point neighbourhood who carried the torch for it.
And it exists because of engineering heroics that saved lives and put Hamilton on the map in the mid-19th century.
In a two-month stretch in 1854, 550 people in the city — one in 40 — died from a cholera outbreak from polluted drinking water. What followed, from 1856-1859 was construction of a state-of-the-art six-kilometre water pipeline, made from cast- iron pipe 450 mm (18-inches) in diameter made in Scotland.
The pipeline carried water in a diagonal straight line from the waterworks at present-day Woodward Avenue to Ottawa Street North and rose partway up the escarpment to a reservoir near the Kenilworth Access, where it flowed back down to the lower city using gravity.
The pipeline meant that Hamilton, after Montreal, was the second city in pre-Confederation Canada to provide municipal water services.
"It was very forward thinking for the time," said Ian Kerr-Wilson, manager of Heritage Resource Management with the city.
That pipe remains underground, the pump house is now the Hamilton Museum of Steam and Technology, and the open-air reservoir is overgrown with foliage and no longer in use. (A modern, covered reservoir sits near the old one.)
"Taken together, the surviving elements are matched only by a bare handful of preserved waterworks anywhere in the world," he said.
Hamilton developed thanks in part to that pipeline, but no significant building construction was permitted overtop of it, which preserved a corridor about 20 metres wide — the "pipe track" or "rising main" as the original engineers called it.
Meanwhile, a vision to cycle and walk the corridor existed from the start: a path over top of the pipeline was christened in the summer of 1899, made of "Beach gravel" and in some places cinders, at a price tag of $400.
But in recent decades it fell into disrepair, cars were parked on it, it was marred by litter and got a rap as a dangerous place.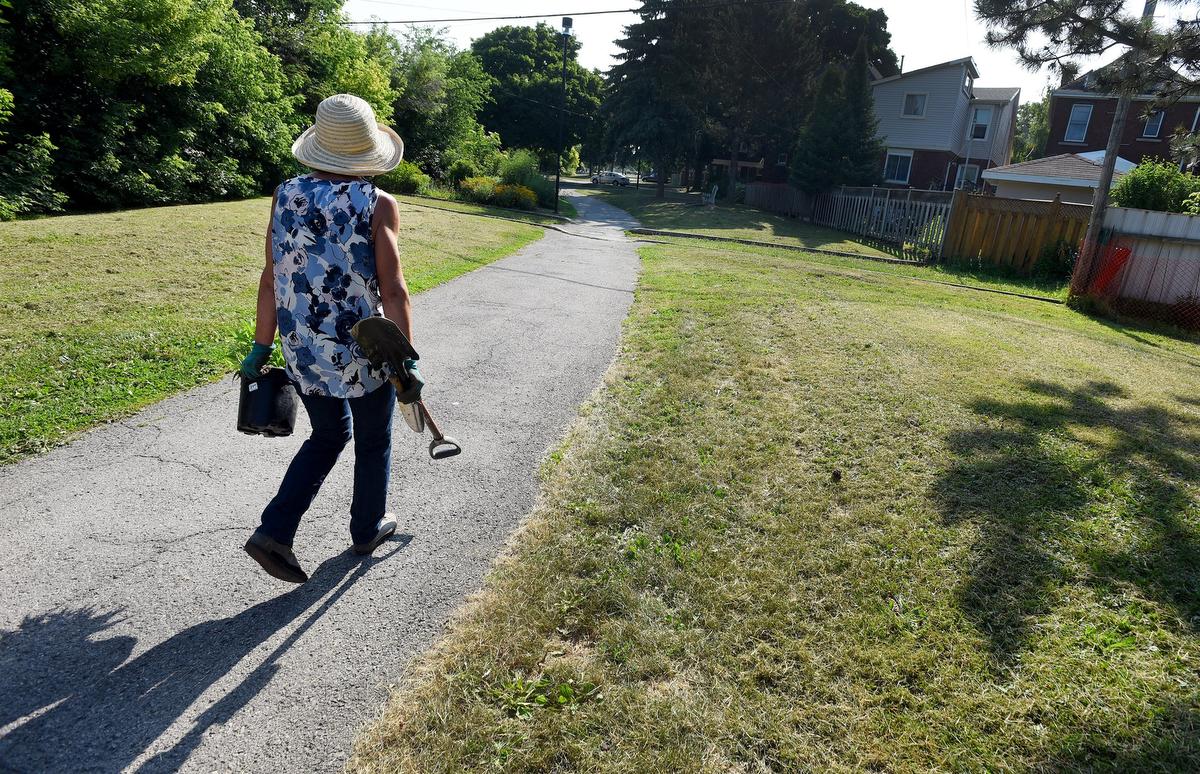 Fast-forward to 2014. Residents in Crown Point, working with the city through its neighbourhood action strategy, lobbied to repair and reimagine it.
Elizabeth Seidl and her family had recently moved to the neighbourhood, on London Street, and discovered the history of the weathered trail on which she walked her daughter to school.
Seidl, who works as a kitchen designer and whose education is in fine art and interior design, got engaged in the effort far beyond what she expected.
She had no background in community advocacy, but she became the go-to person.
"It just felt like something I had to do," she said. "I've never felt like that before about anything else."
She found sisters-in-arms and trail enthusiasts in people like Tammy Heidbuurt, Bev Wagar, Bethany Osborne, Amy Taylor, Ingrid Mayrhofer.
Volunteer Bev Wagar at work in the Pollinator Garden. - Barry Gray , The Hamilton Spectator
They attended meetings, and with city staffers took a bus tour of the corridor in the dead of winter. They imagined, planned, made a wish list. They loved the deeper meaning of the pipeline, its connection to water, Lake Ontario.
"Elizabeth showed strong leadership and pulled the team together," said Heidbuurt. "She connected with city staff and encouraged others to participate, it allowed everyone to dream together, so everyone owns the vision."
The 65-page Pipeline Trail Master Plan document that came out of the process outlined a vision to reinvigorate the trail, to create "a stronger sense of place in the neighbourhood."
Alice Sabourin, who was on the original city team, and is now senior project manager for the Cultural Plan, said it was an example of residents creating a movement "through love, hard work and partnerships to liberate a past treasure."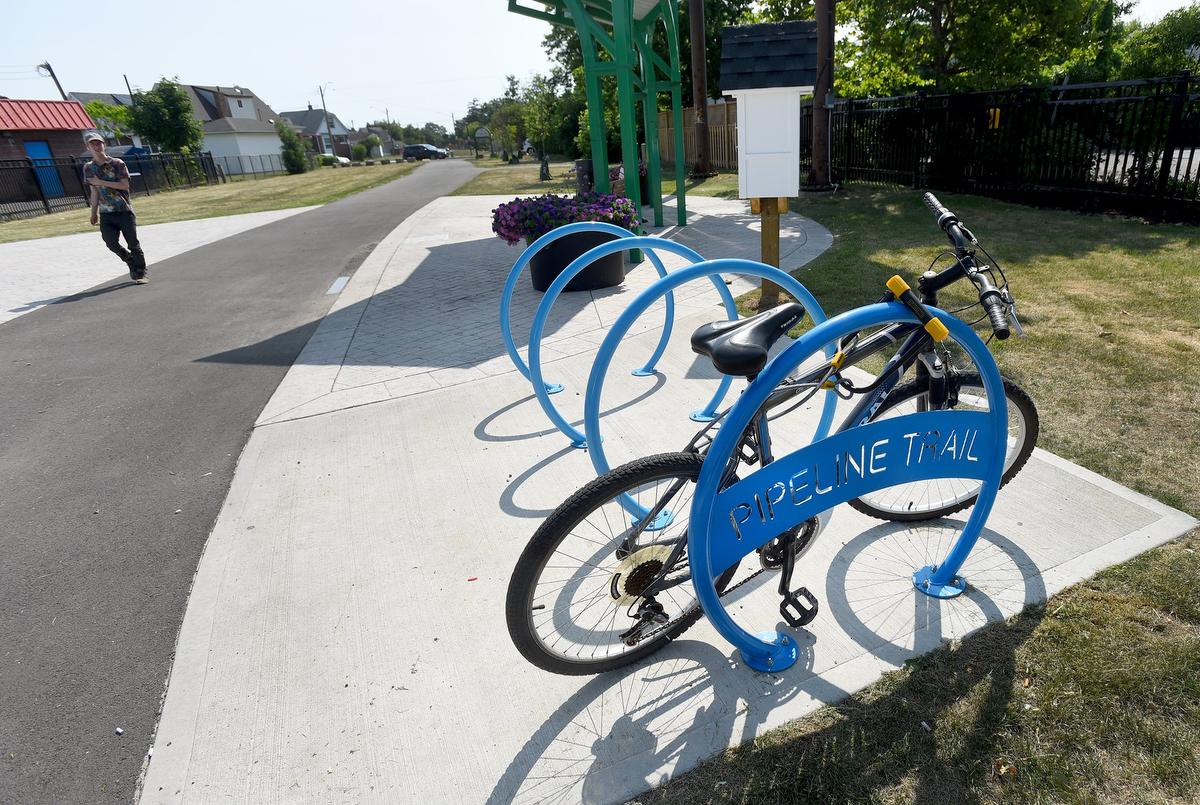 Regular users now walk and cycle the paved trail, for exercise, or to take it to the grocery store, or school, and a community of dog walkers are on it every day.
In addition to infrastructure such as light poles, among the elements of the trail's new life are works of art, with more installations to come.
To Seidl, the murals and other artwork is not just about beautification.
"Art improves quality of life, but not everyone can access it in a gallery, for example. The trail is an opportunity to provide that."
Working with the Hamilton Naturalists Club, Environment Hamilton and the Crown Point Garden Club, three pollinator gardens have been planted. The first, the Pipeline Pollinator Paradise, is on the trail between Edgemont Street North and Park Row North.
Additional small gardens pop up here and there, outside official plans — what volunteers quip is "guerrilla gardening."
Pipeline Trail parades and cleanup days have been held, with more to come. (To keep up-to-date on events seaup-to-dates Facebook page under Pipeline Trail Hamilton, or email pipelinetrail.hamilton@gmail.com.)
And yet, as far as the project has come, according to the vision outlined in the Master Plan it's just the beginning — or should be, says Amy Taylor.
"We need activists, we need louder voices (on city council)," she said. "Or the Master Plan will sit on the shelf."
The Pipeline Trail is an example of urban renewal strategy where corridors that had originally been designed for automobiles, trains or public utilities are renewed for use as parks, layering them with ecological, community and recreational purpose.
One famous example is the above-ground industrial spur line in New York City converted to a "linear park," called the High Line, that Seidl visited. And there is the Green Line northwest of Mexico City that runs overtop of an oil pipeline.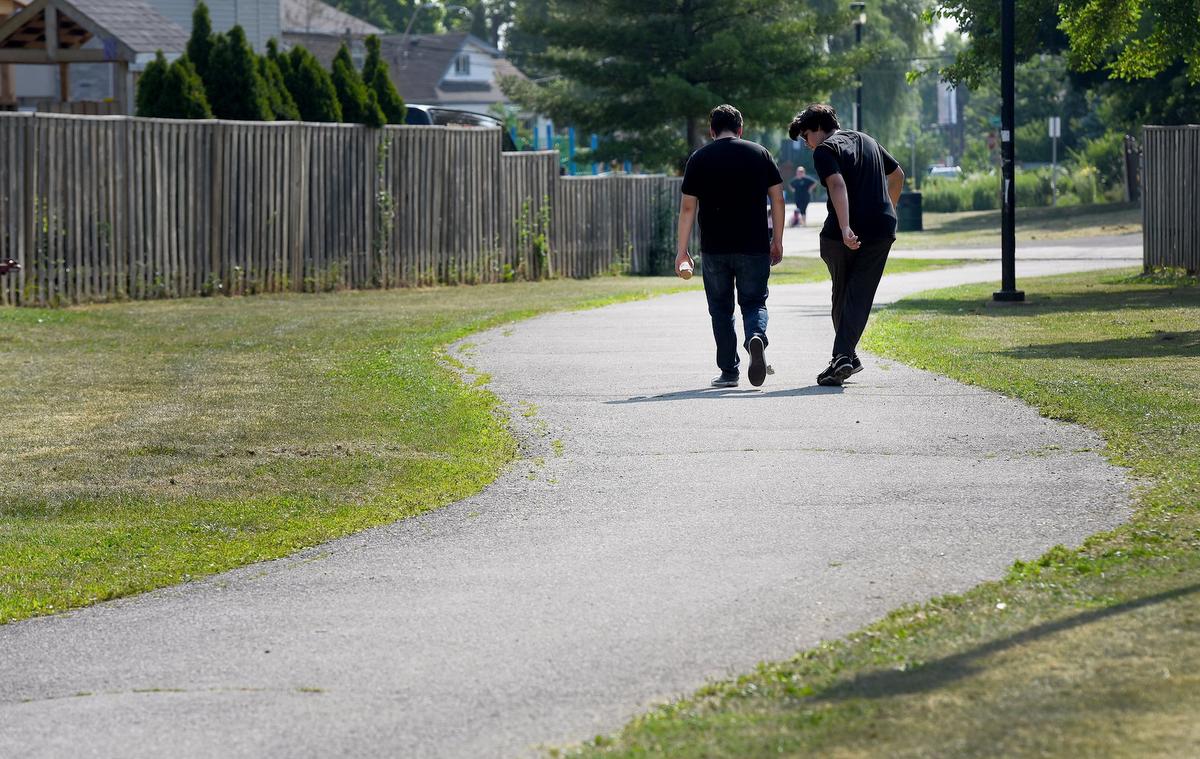 The primary stretch for walking and cycling the Pipeline Trail begins at Ottawa Street North and Main Street East, where there is a city parking lot behind the Dairy Queen.
The trail runs east to Kenilworth Avenue North, where a decrepit parking lot was replaced last fall by a parkette named after Geraldine Copps, the late city councillor and neighbourhood resident who used to walk the trail as a schoolgirl.
From there the trail continues northeast through Andrew Warburton Memorial Park, past Little Bethel Community Church ("A little church with a big heart") to Strathearne Avenue.
At this point, after about two kilometres, the trail seems to disappear, obscured by development, before re-emerging east of Parkdale Avenue North, near Glow and Grace avenues, and technically ending at Woodward Avenue and the Museum of Steam of Technology.
Renewing this untamed piece of the Pipeline Trail is the next priority, said Cynthia Graham, the city's manager of landscape architectural services, adding that planning staff will propose the work be part of the 2019 capital budget.
She said another priority is improving street crossings along the Ottawa-Strathearne section to make them safer and more attractive.
Since the project first took root the budget has been $830,000, with $391,484 spent so far.
The Master Plan estimates the total cost of the vision extending to 2021, if all design elements were implemented, would be about $3 million.
But whether the budget ever approaches that investment will depend on future city councils.
The grandest vision of all is the trail one day returning to its former life, serving as a true corridor from the east end all the way to the beach, by linking up with the pedestrian bridge over the QEW.
Tammy Heidbuurt is perhaps the rare trail enthusiast who has biked the entire route in its current form, with the zigzags forced by industrial interruptions east of Strathearne. She does it several times a summer.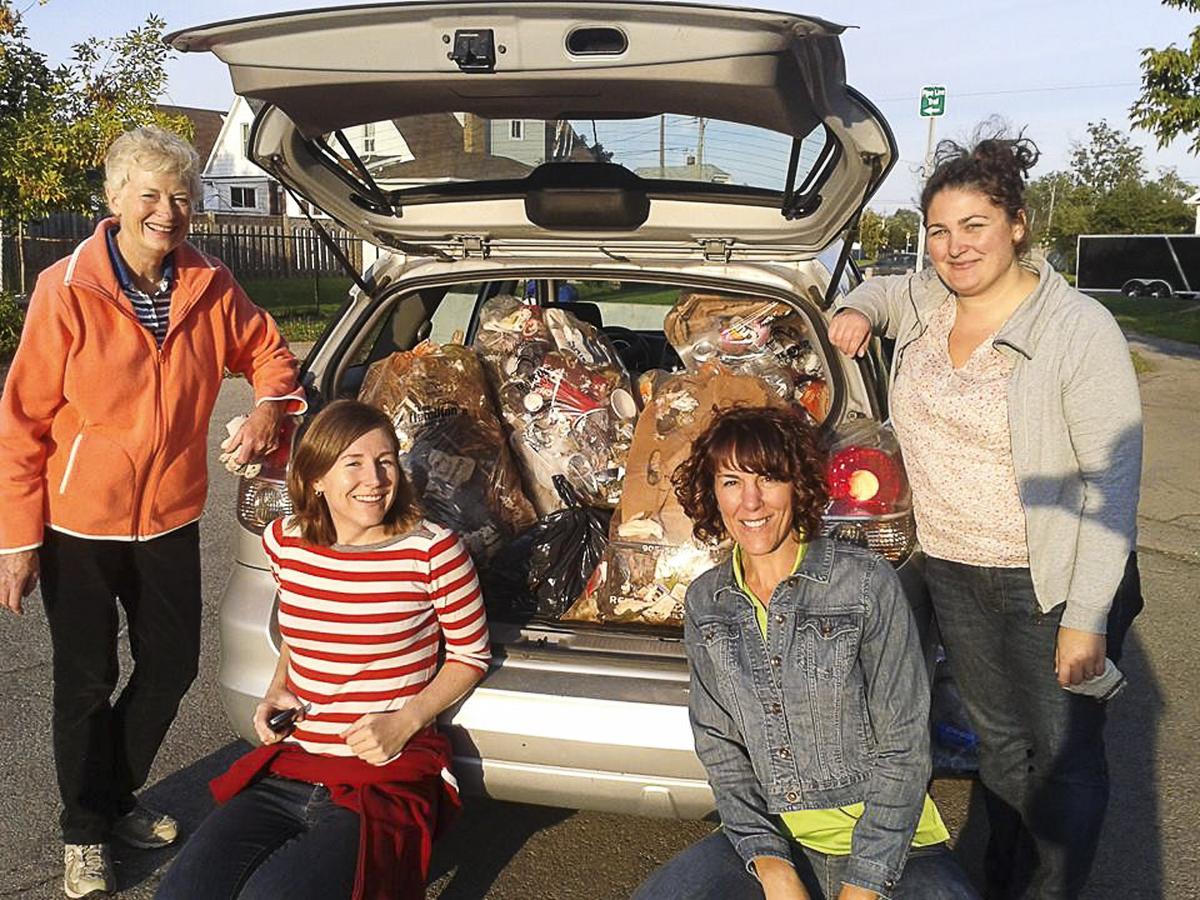 Who knows, perhaps the trail extending comfortably to the beach is not entirely a (pipe) dream. The seeds for future advocacy are already being sown with kids who are growing up on the Pipeline Trail.
Near the Pollinator Paradise garden, a toddler named Warren plays with his mom, Kyla Makela. He's already a big fan of the trail, she says.
The family moved to Hamilton from Toronto, she said, in search of affordable living and a tight-knit community. When she saw the house on Park Row North shaded by a big maple and hard against a historic trail, she and her husband were sold.
Kyla Makela, and toddler son Warren, play on the Pipeline Trail, which runs past their home on Park Row North. Kyla and her husband moved to Hamilton from Toronto recently and chose the home they bought in part because of its proximity to the trail. - Barry Gray,The Hamilton Spectator
"There is a constant stream of people on it, the dog walkers and cyclists, and the green space is lovely. It seems like people use the trail even when it's not the most direct route to where they're going."
Makela loves the big garden, and the ecological diversity it encourages. She works for the conservation group Bird Studies Canada and spotted a northern flicker recently in her backyard; a bird from the woodpecker family that, while not entirely rare, is not often found this far south.
When Seidl and Bev Wagar knocked on her door recently and asked if they could use her backyard hose to help water the garden, she was happy to help.
A couple of mornings ago, Wagar — the spirit behind the pollinator paradise, said Seidl — added a new plant, an Eastern Bluestar. It bumped the count up to nearly 30 species, from Elderberry to Monarda ("the bee bomb") and Virginia Mountain Mint.
The garden can be viewed up close if you walk through it on a tiny path of wood chips. Or, you can sit on a bench in the shade of a blue spruce and watch tiny birds zipping in and out, bees buzzing.
Plants bob and dance from the activity, life pulsing — just as it does in the water that still courses through that original 19th century Scottish cast iron pipe, every day, four feet under your feet, with the life blood from the lake.
905-526-3515 | @jonjwells
From: https://www.thespec.com/news-story/8741284-hamilton-s-pipeline-trail-liberated-a-past-treasure-/